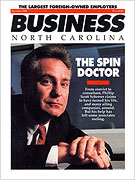 (Excerpt of full article, Business North Carolina, pages 40-46)
Most family-business founders can't shake the image of their heirs as the 16-year-old kid who put the care in a tree, explains John Powell, head of the North Carolina Family Business Forum, based in Burlington. "So getting the entrepreneur in charge to let go of the reins—to transfer operational control to the next generation—is the most common stumbling block to keeping a family enterprise alive."
The numbers bear that out. More than 90% of North Carolina businesses are family-owned, yet few stay that way beyond the first generation. Big egos. Sibling rivalry and Oedipal conflict frequently spell disaster. "Often the first generation doesn't have faith that the next generation can run the business as well," says Powell, whose family's Carolina Biological Supply Co. has seen its share of feuding.
Still, some do manage to survive into the second generation and a few even into the third. Three such businesses are winners of the first North Carolina Family Business of the Year Award, presented by the forum and Business North Carolina.
Raleigh consulting engineers, Booth & Associates, won in the category for small companies (fewer than 100 employees). Gregory Poole Equipment Co. in Raleigh, winner for midsized (100-499 employees), is the Caterpillar dealer for Easter North Carolina. Neil Realty Co. (a.k.a. Contentnea Creek Development Company), a diversified real-estate company and operator of nursing homes, won for large (more than 500 employees) companies.
Neil Realty Company
(Contentnea Creek Development Company)
Founded by a self-proclaimed country boy from Greene County, Neil Realty Co. has grown from a one-man construction company to a 6,200-employee diversified empire with $201 million in sales this year. Robert O. Hill Sr., 63 built the company around his interests and has allowed his sons to develop their own lines of business based on theirs.
It all began in 1953 when Hill, then in his early 20s, completed an apprenticeship in carpentry and founded Robert Hill Construction, a home-builder and real-estate developer. He continued to tend the family farm as his building business grew. But when his grandmother became seriously ill, his focus changed. "We had no options but to place her in a long-term-care facility where she could receive the care she needed," he says. He began looking for a skilled-nursing facility, which provides a higher level of care than does a standard nursing home. But there were few such centers in the state.
He turned this family need into a business opportunity—by entering the nursing –home business in 1965. "We were looking at possible ways to diversify so that the growth of our business would continue," he explains. The company built a skilled-nursing facility in Snow Hill. Others followed in LaGrange, Jacksonville, Kinston, Goldsboro and Wilkesboro.
Neil Realty (the name originally derived from Hill's middle name, O'Neil), owns and operates 45 Britthaven long-term-care homes with 5,500 patients in North Carolina, Kentucky and Virginia. It also owns clinics that specialize in treating patients with Alzheimer's disease and end-stage renal diseases and runs subsidiaries such as Neil Medical Group, a vendor of medical and pharmaceutical supplies.
Eldest son Robert Jr., 42 oversees these operations. A graduate of UNC Wilmington with a degree in business, he came to work at the family company exited about opportunities in health care. "I saw the demographics of a growing elderly population in North Carolina and the lack of adequate facilities in rural areas to care for these North Carolinians," he says. "An opportunity was there for further growth."
Youngest son Stephen, 33, who graduated with a B.S. in economics from Appalachian State University, spent three years in Washington as a staff member of the House Merchant Marine and Fisheries Committee before joining NRC in 1985 and leading its expansion into insurance. "My background with government regulatory procedures led to the company's becoming self-insured and the eventual growth of our insurance business," he says.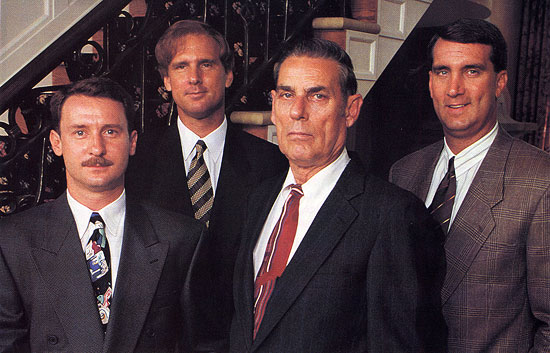 Robert Hill Sr. has allowed his sons, Stephen, Robert Jr. and Gregg, to develop their own lines of business.
The company owns two insurance operations; Kinston-based Discovery Insurance Co., a workers' compensation underwriter for health-care providers, and Markham, Gray & Dennis, a third-party administrator for self-funded health insurance, retirement and workers' compensation programs. Stephen also heads Neil Realty's internal operations.
Health care and insurance aside, Neil Realty continues to operate Robert Hill Construction and run the family farm (where it breeds thoroughbreds and produces timber). The company also operates Wayne Wholesale, which sells groceries to convenience stores and institutions, and SNOPHAC, a plumbing and heating contractor. Son Gregg, 39, handles these activities and the company's finances. "Development and construction of new business has always been my primary interest," he says. Responsible for securing financing for continued growth, he juggles construction projects while keeping the financing in order.
Although the sons have pursued different interests in the company, they were introduced to the business the same way — from the ground up. "Our job was to clean up bricks, wood and mortar around houses after construction was completed," Stephen says.
The sons' diverse operations have given rise to a kind of divide-and-conquer approach to succession. There is no designated successor, and though no one at Neil Realty will admit it, it appears that the founder is waiting to see which of his sons rises to the top before appointing one. "I am certainly not ready to step down at this time," he says. "I still have many good years left."
He has pulled back a bit, however, serving in a more advisory role these days, meeting with his sons regularly to make major corporate decisions. "Basically, day-to-day responsibility has already been passed on to us," Stephen says.
The Hills don't seem worried about the lack of a concrete succession strategy. "A family business is no different than a sports team," Robert Jr. says. "Each person has his responsibility, and we all come together for a winning effort. While it is true there is always a captain or coach, it's the team — working together — that forces the win.
Margot Lester Gurley is a Carrboro free-lance writer.